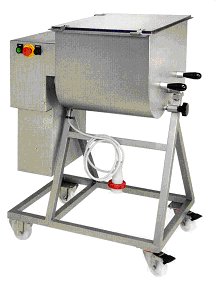 MEAT MIXERS

Made in Italy

Umbra Macchine mixers are built for long trouble-free service life. They are suitable for all types of meat and provide solutions to a wide range of mixing needs. Easy to move around. Capacities from 30 to 150 kg, with one paddle (F30/1P, F50/1P, and F75/1P) and with two paddles that rotate in opposite direction (F50/2P, F80/2P, F100/2P, F120/2P, and F150/2P). All stainless steel construction. Ideal for small and medium applications. Low-voltage controls and emergency microswitch on the tank cover are supplied standard. A safety device does not permit the machine to operate when the cover is open. Transparent extruded polycarbonate tank cover (available option: stainless steel tank cover). Forward and reverse mixing.

Features that make your work easier:
- Two swivel locking casters
- The tank can be tilted more than 90° for easy emptying
- Push button for temporary reverse rotation
- Removable paddles for easy discharge and cleaning: no wrenches needed.